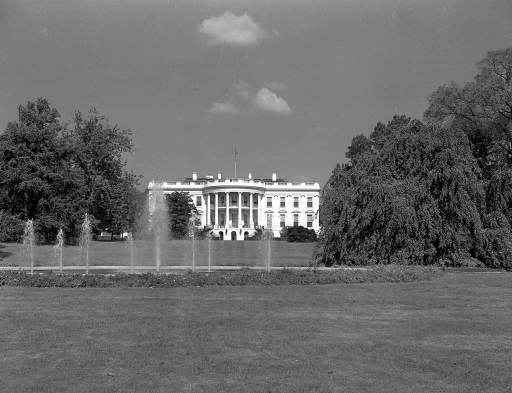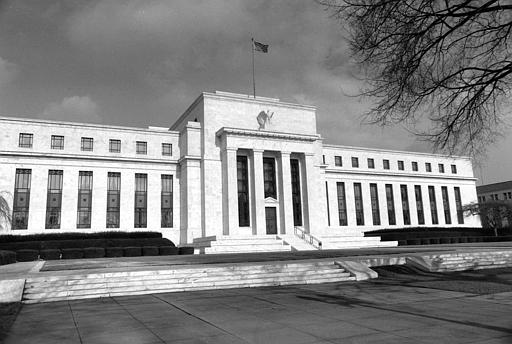 The White House The Federal Reserve
Introduction Task Process Resources Evaluation Conclusion

---
The United States has been in a recession for almost a year. After experiencing the longest period of economic growth in U.S. history, citizens who are not accustomed to poor economic conditions are getting panicked! They need to see better economic conditions start to develop before they lose all confidence in our system. Unemployment should be reduced to a level below 5%. Gross Domestic Product should show moderate growth of at least 2.5 to 3%. Inflation should not creep up to 2% or higher.
Many people have started to blame the President for not fixing our economy and restoring consumer and business confidence. He has his Council of Economic Advisors searching for fiscal policy initiatives.
Alan Greenspan, Chairman of the Federal Reserve Board, is making sure the Regional Fed Bank Presidents are preparing reports on economic conditions around the country in preparation for the next policy meeting in Washington, D.C. Monetary policy has been given high praise for saving our economy in the past and maintaining a long period of economic growth.

---
Task:
Students will be either working for the Federal Reserve or the President. Both groups of roles have similar tasks to accomplish: finding out the current status of our economy, analyzing the information so that trouble spots and positive aspects can be identified, and making recommendations for fixing the problem areas.
Alan Greenspan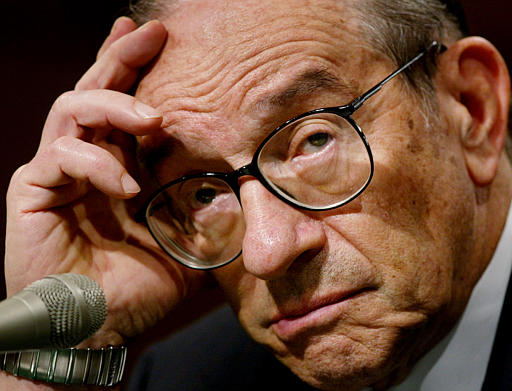 As members of the Federal Reserve Banking system, you should be able answer the following questions:
What are the current economic conditions in your District?

What monetary policy recommendations will you, as a Federal Reserve District Bank President, make to Chairman Greenspan at the next Federal Open Market Committee (FOMC) meeting?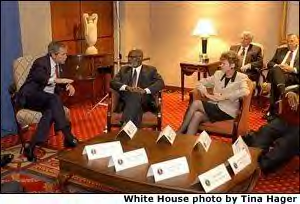 President George W. Bush discusses the economy with Walter Howlett Jr. of Booker T. Washington Insurance Co. and Kathy Jones of Honda Manufacturing during a roundtable meeting on the nation's economy with business leaders in the Ayls Stephens Center at the University of Alabama at Birmingham Monday, July 15.
As members of the Council of Economic Advisors, you should be able answer the following questions:
What are the current economic conditions in your region?

What fiscal policy recommendations will you, as an advisor to the President on economic policy, make to the President?
The final product for both monetary and fiscal policy advisors will consist of two components:
a five minute power point presentation on current economic conditions in your Federal Reserve district or region of the United States. The presentation must have graphics to illustrate economic trends and current conditions in relevant markets. This presentation will also be followed by a two minute question and answer period and a recommendation for monetary policy with a short explanation.

a two or three page written report of your economic conditions analysis and policy recommendation to be sent to business leaders in your District.
---
Process:
Students will work in pairs for District and Region reports.
Three days will be spent on research during class time. All other research must be completed on your own time. You are expected to spend at least an additional two or three hours at home or in a computer lab acquiring the needed data and preparing this presentation.
Click here to access a student worksheet that you can modify to suit your needs .
Data will be collected and organized by all pairs on the following economic conditions in the United States and their area:
Real GDP

Unemployment

Consumer Price Index

Money Supply (M2)

Consumer Confidence

Balance of Trade

Dow Jones Industrial Average
Data will be collected and analyzed by the Federal Reserve Bank District pairs on all of the following:
Most recent Beige Book analysis of their District.

Economic and other news that is affecting their District.
Data will be collected and analyzed by the Council of Economic Advisors on all of the following:
Consumer spending levels

Consumer Confidence

Business Confidence

The Federal Budget

Current spending on main budget categories (defense, social security, homeland security, medicare, etc.)

Current tax rates for various income levels

Corporate tax rates

Current federal deficit

Current national debt
Suggested web links to use: For more help in knowing what to use for each of the roles, see Resources section below.
The Federal Reserve: Members of the Board of Governors
The Federal Reserve System- Purposes and Functions
Federal Reserve Districts and Banks
Presidents of the Federal Reserve Banks
Federal Reserve System- Federal Open Market Committee
Summary of Commentary of Current Economic Conditions by Federal Reserve District
(Beige Book)
Monetary Policy Report to Congress
About Economics (a commercial site with economic data for both groups)
Bureau of Economic Analysis- Regional Accounts Data
U.S. Census Bureau- Census Economic Briefing Room
U.S. Department of Commerce- Economics and Statistics Administration
In addition to using the web sites that have primarily statistical data, you may find it helpful to read articles about the economy in:
If you are unable to access some of the sources listed above, you may of course use the print versions of newspapers and magazines!
You should also consult your text book when ever necessary to help with your policy analysis.
Roles:
Students will be working in pairs and must submit their written reports based on the data they were assigned to collect. The five minute presentation should consist of both students presenting for as equal a time as possible. Students are graded on both their research and the coordination of the combined research presentation. Students in each pair must work together to use the data that was accumulated to make valid recommendations on monetary and fiscal policy.
Federal Reserve: Role One

(there will be 6-12)

Member of the Federal Reserve Federal Open Market Committee

Reporting on District economic conditions.

Federal Reserve: Role Two

(there will be 6-12)

Assistant to the Federal Reserve FOMC member

Reporting on all current U.S. economic conditions.

Economic Advisors: Role One

(there will be 3)

Council of Economic Advisors

Fiscal Policy advice summary. Prepare budget and taxation recommendations and their analysis.

Economic Advisors: Role Two

(there will be 3)

Regional Economic Analysis

Provide economic statistical analysis for major U.S. regions for the Council of Economic Advisors
Resources:

Students are strongly encouraged to use the following resources rather than search for others. If there is a problem locating data on these sites, do not waste any time- tell the teacher and get some assistance.
Many times you must look at various lists of what is available on each site. Not all information that you need is on the page that opens first.
---
Evaluation:




Each role will be evaluated individually based on how well students have done their research and presented it, and the teams will be evaluated for overall depth, detail and presentation of information.

All students are encouraged to consult the rubric that will be used to be sure that completed work will meet the required criteria for a satisfactory grade of an A or B. Striving for anything lower than a B is not acceptable work in this class.

Rubric Click on the word "Rubric" to view your grade categories and their descriptions.
---
Conclusion:

The economy will always be a fascinating topic. Many have studied it from all angles, many will continue to study it, in order to decide on the best way to influence it. Economic growth is one of the fundamental goals of government intervention in our economy. Fiscal and monetary policy are the means to that goal. This web activity has given you an opportunity to experience the complex information that must be studied and the difficult decisions that must be made to improve economic conditions in the U.S.
As a culminating activity, answer the following questions and be prepared to discuss them in class:
1. What is the most difficult problem facing the U.S. economy? Why?
2. Which agency or entity is best suited to handle serious economic problems? Why?
3. What changes would you make to the process we currently use (fiscal and monetary policy) to influence the economy?
4. How would you improve our current system?
---
Credits
Cite any sources of graphics or material that you have quoted or adapted. Be sure to follow the proper format for citing sources.
---
Introduction Task Process Resources Evaluation Conclusion
Created By:


Karen E. Wassman
Social Studies Teacher
Quince Orchard High School
Montgomery County, Maryland


Last updated September 10, 2002